Obituary
Klaus Pinkau, former Scientific Director and Emeritus Scientific Member of IPP passed away on 15 October 2021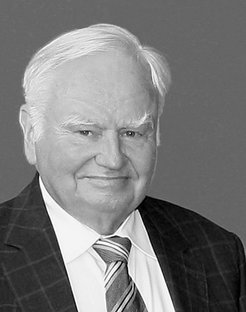 Max Planck Institute for Plasma Physics mourns the death of Professor Dr. Drs. h.c. Klaus Pinkau, the former Scientific Director of the Institute, who died on 15 October at the age of 90. Klaus Pinkau studied mathematics and physics in Tübingen and Hamburg, earned his doctorate in Bristol and subsequently habilitated in Kiel in 1963. He then went to Louisiana State University as a professor and was appointed Scientific Member at Max Planck Institute for Extraterrestrial Physics in 1966, at the age of only 35.
Klaus Pinkau's broad field of activity ranged from nuclear physics, astronomy and fusion research to fundamental questions of science management and policy advice. At Max Planck Institute for Extraterrestrial Physics, which he headed as director from 1972 to 1977, he established the research branch of high-energy astronomy, which was new in the Federal Republic. In 1981, he switched from plasmas in space to fusion plasmas at IPP, which he headed as Scientific Director until 1999.
Here, right at the beginning of his work, he initiated the discussion about a future research programme. The resulting proposals summarised in the paper "The Aims of IPP" still determine the work of IPP today. In an ambitious tokamak programme, the existing ASDEX device was to be expanded first, followed by the present ASDEX Upgrade. In parallel, the stellarator programme was defined, which led to the proposal for the construction of today's Wendelstein 7-X via Wendelstein 7-A and Wendelstein 7-AS. Defining such ambitious goals, however, was only the first step. It is thanks to Klaus Pinkau's political skill that these plans could also be realised. In particular, obtaining funding for the construction of the Wendelstein 7-X stellarator in the process of German reunification was largely due to him.
In addition to his duties as a scientist and science manager, Klaus Pinkau was also active in the Science Council (Wissenschaftsrat), as chairman of the advisory committee of the European Space Agency (ESA) and as head of the review committee "Major Projects in Basic Research" of the Ministry of Research. He was a member of the Senate and Chairman of the Scientific Council of Max Planck Society.
Klaus Pinkau has received many awards for his achievements. Among others, he was honored by the Bavarian Order of Maximilian for Science and Art, the Federal Cross of Merit on Ribbon, the Federal Cross of Merit 1st Class and the Bavarian Order of Merit.
Klaus Pinkau will always be remembered with gratitude and respect at Max Planck Institute for Plasma Physics. IPP – and all of fusion research in Germany – owe him a great deal. Our sympathy goes to his family and all those who were close to him.
Sibylle Günter and Josef Schweinzer
On behalf of the Board of Directors and the Scientific Directorate