Prof. Dr. Alexander M. Bradshaw
Former Scientific Director of IPP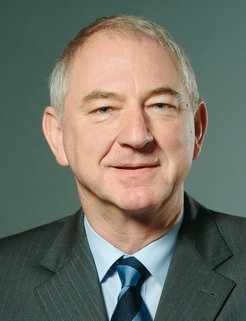 Alex Bradshaw was born in 1944 in Bushey, UK. After studying chemistry at the University of London he took his PhD in 1969 in physical chemistry. The German Habilitation was awarded in 1974 at the Institute for Physical Chemistry of the Technical University, Munich. From 1976 to 1998 he worked at the Fritz-Haber Institute of the Max-Planck Society in Berlin, from 1980 onwards as Scientific Member and Director. Parallel to his position at the Fritz-Haber Institute, he was also during the 1980's Scientific Director of the Berlin synchrotron radiation source, BESSY. From 1999 to 2008 Bradshaw was Scientific Director of the Max-Planck Institute for Plasma Physics. He is now a guest at the Fritz-Haber Institute with Emeritus status.
In his first period at the Fritz-Haber Institute he specialised in spectroscopic and structural characterisation of adsorbed atoms and molecules, in particular using vibrational spectroscopy and photoemission. In cooperation with Phil Woodruff (Physics Department, University of Warwick) the technique of quantitative photoelectron diffraction using synchrotron radiation was introduced and applied extensively. In the meantime more than 85 adsorbate structures have been determined. He has also worked on instrumentation development, in particular for synchrotron radiation experiments. More recently, he has concentrated on photoionisation phenomena in free molecules and clusters. Currently, his main interests lie in general questions of energy supply, natural resources and sustainability.
Bradshaw is a Fellow of the Royal Society and a member of the German National Academy of Sciences ("Leopoldina"), the German Academy of Engineering (acatech), the Berlin-Brandenburg Academy of Sciences and the Academia Europaea as well as an Honorary Professor of experimental physics at the Technical University of Munich. The University of London has awarded him an honorary DSc. From 1998 to 2000 he was President of the German Physical Society (DPG) and co-initiator, in 2000, of the first national "science year" Jahr der Physik. He is an honorary life member of the DPG, an Honorary Fellow of the Institute of Physics and a Fellow of the European Physical Society. He has been a member of numerous national and international evaluation panels and has also chaired EU committees on large-scale facilities and nuclear fusion. Bradshaw was co-founder and first Editor-in-Chief of one of the first "open-access" journals, the New Journal of Physics. He has received many prizes and awards for his research, for his services to the physics community and for his work at the science policy level. In 2002 he was awarded the German Bundesverdienstkreuz and in 2007 the CBE.


Selected publications


The potential scarcity of rare elements for the Energiewende
Green 3, 93 (2012)
Is nuclear fusion a sustainable energy form?
Fusion Engineering and Design 86, 9-11 (2011)
Autoionization mediated by electron transfer
Physical Review Letters 106, 033402 (2011)
A hitherto unrecognized source of low energy electrons in water
Nature Physics 6, 143-146 (2010)
Der Weg zu einer nachhaltigen Energiequelle: Die Erforschung der Kernfusion
Die Zukunft der Energie. Die Antwort der Wissenschaft. Ein Report der Max-Planck-Gesellschaft, München, Verlag C. H. Beck, 295-309 (2008)