Federal Cross of Merit for Director of IPP


Professor Sibylle Günter honoured for her services to research and teaching
Professor Dr. Sibylle Günter, Scientific Director of Max Planck Institute for Plasma Physics (IPP) at Garching and Greifswald since 2011, has been awarded the Federal Cross of Merit with ribband. Bavaria's Chief Minister Horst Seehofer presented the decoration to 48-year-old Professor Günter on 22 February.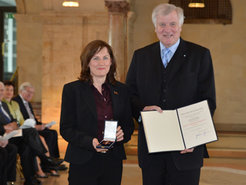 "Besides her scientific work, Professor Günter has been extensively committed to training young scientists and made impressive contributions to scientific research and teaching", stated the Federal Presidential Office in Berlin. Furthermore, as a university teacher she is paving the way for further outstanding achievements in fusion and plasma physics.

IPP is conducting research into the physical principles of a future fusion power plant, which, like the sun, is to derive energy from fusion of light atomic nuclei..