European Fusion Programme restructured
EU research centres establish EUROfusion Consortium; inaugural ceremony in Brussels
Completion of the ongoing restructuring of the European Fusion Programme will be marked by an inaugural ceremony in Brussels on 9 October 2014. Representatives of fusion research and the EU Commission will be launching the EUROfusion Consortium. It comprises 29 national fusion centres from 26 countries in the European Union and Switzerland. The objective of this reorganisation is more efficient coordination of efforts towards the common goal, viz. an energy-yielding fusion power plant, and revision of EU funding. The EU is meeting about half of the five-year budget amounting to 857 million euros. Max Planck Institute for Plasma Physics (IPP) in Garching by Munich will act as coordinator of the consortium.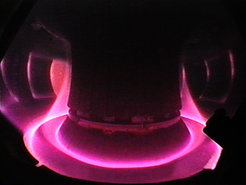 With the start of the new European Research Framework Programme, "Horizon 2020" (2014 - 2020), also the European Fusion Programme will be changing its structure. The aim of Europe's national fusion research centres in joining together to EUROfusion, the European Consortium for the Development of Fusion Energy, is to pool their resources more efficiently. This move was preceded by two years of preparation work, during which the achievements to date were assessed and a detailed and target-oriented research plan was jointly developed.

This "Roadmap to the realisation of fusion energy", initiated in 2013, describes the scientific objectives still to be attained before realising an energy-yielding power plant in 2050. A fusion power plant is to utilise here on earth the energy source of the sun and stars, viz. fusion of hydrogen nuclei, and thus harness a new energy source friendly to the climate and environment. Essential laps on the way to this goal are preparation and operation of the ITER international test reactor, which is to yield a fusion power of 500 megawatts, and development of concepts for a demonstration power plant. This is complemented by the research on the smaller national devices, e.g. in Germany ASDEX Upgrade at Garching and Wendelstein 7-X at Greifswald, which are preparing and accompanying these large-scale projects.

The Consortium Agreement, drawn up with decisive participation of IPP, is replacing the 14-year-old EFDA Agreement (European Fusion Development Agreement) and 29 bilateral Association Agreements, which had hitherto provided the fusion centres with a lump EU grant of up to 20 per cent of their budget. The new EU funding is based on the share of the individual centres in the work plan – divided into individual task packages – set up according to the "Roadmap".
IPP at Garching was chosen as coordinator of the consortium. It is concluding with the EU a Grant Agreement on about 450 million euros for five years (2014 - 2018) and will allocate the funds to the consortium partners. Together with the national funding, the five-year budget of the consortium comes to a total of 857 million euros.

IPP at Garching is also hosting the Programme Management of EUROfusion, headed by Prof. Dr. Tony Donné of the Dutch Institute for Fundamental Energy Research. His duties include preparing the consortium's annual work plan in conjunction with the centres.

The EUROfusion consortium will be officially launched at an inaugural ceremony in Brussels on 9 October. With Energy Commissioner Günther Oettinger in attendance, the founding charter will be signed by Robert-Jan Smits, head of EU Directorate-General of Research, and Prof. Dr. Sibylle Günter, Scientific Director of IPP and Chair of the EUROfusion General Assembly: "This broad and well-organised programme will give Europe the chance", states Sibylle Günter, "to assume a leading role in fusion research world-wide."
Isabella Milch