SCR-1 stellarator in Costa Rica produces its first plasma
Latin America's first stellarator / official inauguration on 29 June 2016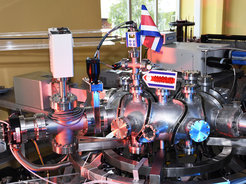 The small SRC-1 stellarator in Costa Rica went into operation on 29 June 2016. The device was planned and built by the Plasma Laboratory for Fusion Energy and Applications, which belongs to the Costa Rica Institute of Technology (TEC) in Cartago. The countdown for producing the first plasma, witnessed by guests from science and politics, was started by a high-ranking government representative from Costa Rica and the TEC President. Electronic congratulations had been sent by representatives of international stellarator research from Princeton, USA, and IPP at Greifswald to mark the advent of the new device. "Our research aims to benefit future generations", stated Institute Director Dr. Iván Vargas: "If research like this continues to evolve, in the future this technology could be used at a power plant that would take alternative energy to our communities".

The Plasma Laboratory for Fusion Energy and Applications was founded six years ago. It covers the fields of plasma medicine, industrial plasma technology and fusion research. Work hitherto had been concentrated on the small MEDUSA-CR device (Madison Education Small Aspect ratio tokamak), which was taken over from the University of Wisconsin-Madison and on the preparation of the SCR-1 stellarator.
The investment costs for SCR-1 came to 500,000 US dollars. The plasma vessel and modular coils were made in Costa Rica. The small device aims at attaining plasma temperatures of 300,000 degrees Celsius. SCR-1 as Latin America's first stellarator now joins the ranks of the stellarators in Australia, Germany, Japan, Spain and the USA.