New issue of the Wendelstein Newsletter
Information around and about the Wendelstein 7-X fusion device
The Wendelstein 7-X Newsletter reports on current developments throughout the Wendelstein 7-X fusion experiment. The latest edition (15/2018) presents the first experience with the new test divertor in the 2017 experimental campaign.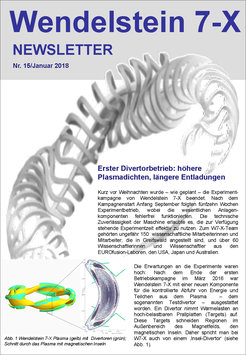 As broad strips on the wall of the plasma vessel, the divertor tiles conform exactly to the twisting contour of the plasma edge. They protect especially those wall areas to which particles escaping from the edge of the plasma ring are specifically directed. Along with unwanted impurities the impinging particles are neutralised and pumped off. The divertor is thus an important tool for regulating the purity and density of the plasma – and the basis for experiments which will extend the present pulse lengths from seconds to several minutes.

Unlike the water-cooled divertor planned for later, the test version has no active cooling. The test divertor is to gain first experience and develop reliable operation of the final component. A first analysis in the 2017 experimental campaign indicates that the observed temperature matches with theoretical predictions. Longer discharges of up to 30 seconds became routine by the end of the campaign. The divertor allowed deposition of up to 75 megajoules of heating energy in the plasma, this being more than 18 times as large as the energy limit of the first campaign without divertor.
To download the Newsletter >>