Munich School for Data Science
Apply now / new graduate school for Data Science in Munich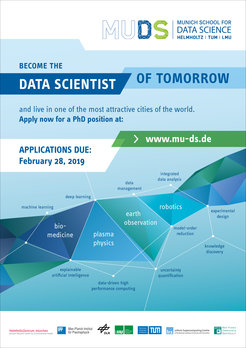 Become the data scientist of tomorrow – in biomedicine, fusion research, robotics or geo-research! Apply now for a PhD position at:
The new graduate school for Data Science was founded by the Max Planck Institute for Plasma Physics, the Helmholtz Zentrum München, the German Aerospace Center, the Technical University of Munich and the Ludwig Maximilian University of Munich. The Leibniz Supercomputing Center and the Max Planck Computing & Data Facility, two major computing and data centers in the Munich region, are also associated. More >>

Registration is open until 28 February 2019.