Japanese-European fusion plant JT-60SA is complete
Tokamak with superconducting magnet coils / long high-power plasmas planned
Assembly of the JT-60SA fusion plant, which began in 2013 as a Japanese-European cooperation, was completed at the end of March 2020. Until the ITER international test reactor goes into operation, JT-60SA will be the world's largest and most advanced tokamak-type facility. It is intended to complement ITER and expand the database for a future demonstration power plant.
Parallel to the construction of the ITER international test reactor at Cadarache, France, two of the seven ITER partners – Europe and Japan – have been working together for the past seven years on assembly of the much smaller JT-60SA fusion facility. This ITER companion is located at the Japanese "National Institute for Quantum and Radiological Science and Technology" at Naka. Assembly was completed on 31 March 2020, the institute reported. Preparations for operation can now begin. "I congratulate the participating teams from the bottom of my heart for this great joint effort," says Professor Hartmut Zohm from Max Planck Institute for Plasma Physics in Garching.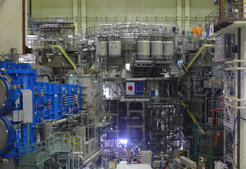 With a volume of 130 cubic metres, JT-60SA will just reach one-sixth of the ITER plasma, but will easily reach the parameters of the JET Joint European Torus, currently the world's largest fusion facility. JET, which went into operation a good 30 years ago, has already shown that energy can be generated by nuclear fusion in a hot plasma: A fusion power of 16 megawatts was generated; 65 per cent of the heating power used being recovered by fusion. However, the JET plasma is too small for a net gain in energy. This is the task of the ITER experimental reactor, which is to generate 500 megawatts of fusion power – ten times more than is fed into the plasma for heating.
Unlike JET and ITER, which can work with plasmas in the power plant mixture of deuterium and tritium, JT-60SA – like all other fusion plants worldwide – will be limited to model plasmas of light hydrogen and deuterium. Instead, JT-60SA's task is to complement the ITER test reactor and to enlarge the database for a future demonstration power plant. Well before ITER is launched, the aim is to investigate high-power plasma pulses lasting up to one hundred seconds, for which purpose the facility is equipped with superconducting magnetic coils in which the current flows with virtually no loss. "Apart from JT-60SA, there is no other machine of this size in the world," says Professor Hartmut Zohm, "that can investigate long-lasting, i.e. quasi-stationary plasmas for a future demonstration power plant. The plasma pulses of JET are not long enough owing to its copper magnetic coils".
The international project group of JT-60SA was supported by a Japanese team based at Naka and a European team at Garching. They supervised production and supply of the components, which were manufactured in Europe and Japan. The two teams will now also jointly carry out the operational preparations – owing to the corona crisis, some of them remotely via online data exchange with the control computers at Naka.
Subsequent use of the facility is governed by a recently signed Japanese-European agreement. "The European Union has invested several hundred million euros in the construction of JT-60SA," says Professor Hartmut Zohm. "Accordingly, the new agreement now also guarantees Europe a privileged role in scientific evaluation of the facility." Together with other tokamaks – such as ASDEX Upgrade at Garching – JT-60SA will help to prepare first for ITER operation and then for a demonstration power plant.