Assembly of the ITER fusion test reactor begins
French President Macron invites to virtual ceremony on 28 July 2020
On Tuesday, 28 July 2020, French President Emmanuel Macron and the heads of government of the seven ITER partners China, Europe, India, Japan, South Korea, Russia and the USA will celebrate the start of assembly of the ITER international fusion test reactor at Cadarache/South France in a virtual ceremony.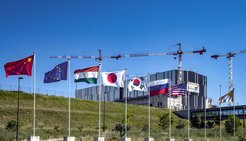 After years of preparation and production, large components have been arriving from all over the world at the ITER construction site at Cadarache in southern France for several months. In the experiment building, the first and heaviest component – the 1250-tonne bottom section of the cryostat – was brought to its final position at the end of May. The cryostat, a cylindrical steel vessel 30 meters high and just as wide, will later enclose the entire plant, which has then been cooled to low temperature, and thermally isolate it from the environment. The first section of the vacuum vessel for the ITER plasma is expected to arrive from Korea this week. Together with two magnetic field coils and parts of the heat shield, all parts of the first assembly will then be on site: machine assembly can begin.
A virtual ceremony on Tuesday, 28 July 2020 at 10 a.m. will mark the official start of assembly, the ITER Organization announces. The French President Emmanuel Macron as host and the heads of government of the seven ITER partners are expected to attend the virtual ceremony. The three-part event – site visit, official start of construction ceremony (11 a.m.), press conference (approx. 12.30 p.m.) – will be broadcast live at https://youtu.be/2-7GyVLKE6A.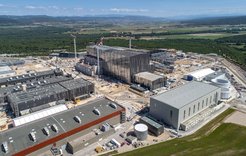 Background
With ITER (Latin for "the way"), the world's major fusion programmes – in China, Europe, India, Japan, the Russian Federation, South Korea and the USA – are jointly building the first experimental reactor. ITER is intended to demonstrate that it is physically and technically possible to generate energy through nuclear fusion. It is to deliver a fusion power of 500 megawatts – ten times more than is needed to heat the plasma.
From 1988 until the move to Cadarache, Max Planck Institute for Plasma Physics (IPP) in Garching hosted the European ITER planning group. With the research program of its ASDEX Upgrade fusion device, the institute contributes to the preparation and support of ITER operation. In addition, IPP is in close contact with the ITER group on all physics-related issues and is working on technology developments in several contract studies.