Fusion Energy – Topic at World Climate Conference COP26
IPP on international panel: fusion research to combat climate change
A roundtable on fusion research is scheduled for the final day of the 26th United Nations Climate Change Conference, which will be held in Glasgow from Oct. 31 to Nov. 12, 2021. An international panel will discuss the importance of nuclear fusion in combating climate change. One of the panelists will be the director of Max Planck Institute for Plasma Physics (IPP) in Garching and Greifswald, Professor Dr. Sibylle Günter.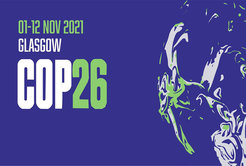 At the 26th Conference of the Parties (COP) to the United Nations Framework Convention on Climate Change in Glasgow from October 31 to November 12, 2021, Parties will meet to discuss implementation of international climate targets.
At invitation of the British hosts, a panel discussion on fusion research, "Looking to the Future with Fusion Energy", is scheduled for Friday, Nov. 12, the final day of the conference. Chaired by Dr. Bernard Bigot, Director General of the ITER international fusion project, an international panel invites the world's decision makers to learn about fusion energy and its potential contribution to combating climate change. On the panel: IPP Director Professor Dr. Sibylle Günter and representatives from the UK and the USA.
The event will take place from 12:30-13:30 (CET) and will be live-streamed: https://youtu.be/v2WdlxZqLYM
The goal of fusion research is to develop a climate and environmentally friendly power plant that – like the sun – generates energy from fusion of atomic nuclei. One gram of fusion fuel could provide as much energy as eleven tons of coal, but without producing climate-harming emissions. If research is successful, fusion power plants could start supplying electricity in the second half of the century. They would primarily cover base loads and thus supplement weather-dependent wind and solar power plants. Fusion power plants would also be suitable for hydrogen production.