Three IPP exhibits illustrate nuclear fusion in Heilbronn until September
The Max Planck Institute for Plasma Physics (IPP) is participating with three exhibits in the exhibition "The Sun – Living With Our Star". It can be visited at the Heilbronn Science Center experimenta from 18 February to 10 September 2023.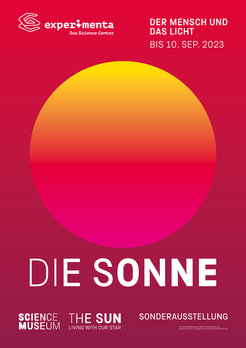 In four chapters, the show deals with the sun in connection with time, health, energy and research. On the subject of energy, one section is dedicated to nuclear fusion, which presents not only historical models and machines but also the current large-scale experiments at the Max Planck Institute for Plasma Physics (IPP):
- A 1:5 scale model of the Garching tokamak ASDEX Upgrade shows an eighth section of the facility and illustrates the arrangement of magnets, support structure and vacuum vessel.
- The model of a superconducting magnet coil of Wendelstein 7-X (scale 1:2) conveys the complexity of the magnetic field in the stellarator, which is located at the IPP site in Greifswald, through its winding shape.
- Multimedia panoramas of ASDEX Upgrade and Wendelstein 7-X take visitors on a virtual tour of the facilities.
The special exhibition in Heilbronn was curated by the Science Museum in London and supplemented by IPP exhibits for the German version. At the opening event on the evening of 16 February 2023, IPP scientist Dr Alexander von Müller will give an introductory talk on nuclear fusion.
The Sun – Living with Our Star
18 February 2023 - 10 September 2023
https://www.experimenta.science/en/
experimenta – Das Science Center
Experimenta-Platz
74072 Heilbronn
Germany