Ultrafast laser technology. From experimental setup for dark matter detection to a commercial product.
Institutskolloquium
Date:

Mar 10, 2023

Time:

10:30 AM - 12:00 PM (Local Time Germany)

Speaker:

Prof. Dr. Oleg Pronin

Oleg Pronin is professor for Laser Technology and Spectroscopy at Helmut Schmidt University in Hamburg, Germany. He is a co-founder of two start-ups, Nordair Systems and n2-Photonics.

Location:

Zoom Meeting Room 1

Room:

Zoom Meeting

Host:

Dmitry Moseev

Contact:

dmitry.moseev@ipp.mpg.de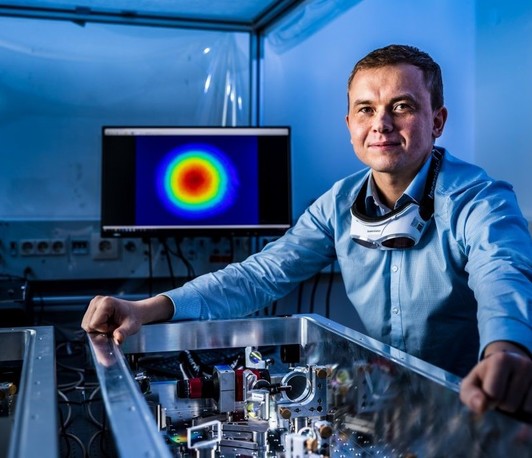 Oleg Pronin was born in Ertil, Russia, in 1985. He received a Diploma degree in solid-state physics from Moscow Engineering Physics Institute (Technical University) in 2008, and a Ph.D. degree in physics from the Ludwig Maximilian University of Munich, Germany, in 2012.
From 2012 to 2014, he was a Postdoctoral Scientist with the Ludwig Maximilian University of Munich. From 2014 to 2019, he has been a Group Leader at the Max Planck Institute of Quantum Optics, Garching, Germany. Since 2019 he is a full professor at Helmut Schmidt University in Hamburg, Germany. He has co-authored over 30 articles and holds several patents. He is a co-founder of two start-ups, Nordair Systems and n2-Photonics. His research interests include soliton mode-locking and instabilities, development of high-power femtosecond 1-μm and 2-μm thin-disk oscillators, ultra-broadband mid-infrared frequency combs, nonlinear spectral broadening in solids, carrier-envelope-phase stabilization and few-cycle pulse generation.
The complete publication list is available in his google scholar profile shorturl.at/ejDJW
To learn more about the ongoing research projects, please visit the group webpage https://www.hsu-hh.de/lts/

This talk will address some basic applications of ultrafast lasers able to produce <100 fs pulse duration and average powers on the order of 100 W. I will describe a few practical applications like nonlinear microscopy for brain research and cancer detection and fundamental research applications related to the new generation of nuclear clocks and possibly dark matter detection with those clocks. I have asked myself in the last few years, "Are those technologies being developed in my group going to make an impact in the future and enable new applications?". To answer this question practically, I have co-founded a start-up company n2-Photonics which brings sub-50-fs pulse duration to the market with the primary mission of "enabling new applications." How this journey started and how it goes is also going to be presented in this talk.