European Prize for IPP Film on Fusion Research
MIDAS Award 2009 / bestowed by the organisation for "Public Awareness of Science and Technology"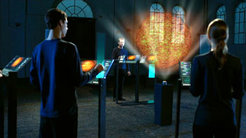 The film produced by Max Planck Institute for Plasma Physics (IPP), "Energy of the Future. Fusion 2100", was presented with the MIDAS Award 2009 at a European media festival. An international jury comprising scientists, science communicators and television journalists elected it as the best production in the "New Media" category from among the other contributions to science and environment topics that were submitted. The prize is awarded by the organisation for "Public Awareness of Science and Technology" (EuroPAWS).
The aim of EuroPAWS is to help in giving greater prominence to research and technology in television and other audio-visual media. In 2009 awards were made to European productions that present effective and appealing portrayals of research relevant to the environment.
The award-winning film gives an entertaining and informative nine-minute account on how a fusion power plant will work and what environmental properties are to be expected: A school class in 2100 re-enacts how the development of the fusion energy source proceeded. The futuristic lesson gives the viewer an entertaining survey of the principles, development and status of fusion research. The next step in world-wide fusion research on the way to this almost inexhaustible energy source is the ITER international test reactor, construction of which is to begin next year at Cadarache, France.
The film was made by Max Planck Institute for Plasma Physics (IPP) on behalf of EFDA (European Fusion Development Agreement) with funding from the European Union (script and direction: Herbert Hackl; production: Naumann Film, Munich). The film is available in English, French, German, Italian and Spanish as well as with subtitles in ten other European languages and can be viewed on the internet and downloaded free of charge.