WEGA fusion experiment now retired
Wendelstein training experiment at IPP Greifswald / almost 40 years of experimentation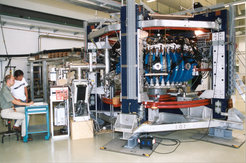 After twelve years of fruitful research the small WEGA fusion device at IPP's Greifswald branch has now been shut down. The "Wendelstein training experiment at IPP Greifswald" is making room for the Wendelstein 7-X large-scale device, construction of which will be concluded next year.

WEGA served as a training ground for students and junior scientists at Greifswald to bridge the gap till completion of Wendelstein 7-X. WEGA provided many members of staff of the branch institute, established in 1994, with their first experience in a plasma experiment – with installation of the device, construction and testing of measuring facilities or control of the experiment. The readily adaptable WEGA device made it relatively easy to install new heating antennas, measuring facilities or control systems and test them with respect to big brother Wendelstein 7-X. But WEGA was not restricted to preparation and training, it also served for research. Prominent topics were plasma turbulence, heating of dense plasmas, wall conditioning or confinement of high-energy electrons. "WEGA was always good for surprises", stated experiment head Dr. Matthias Otte in retrospect.

All in all, WEGA set the scene for two master theses, 13 diploma theses and six PhD theses. Numerous trainees gained from it their first insight into plasma physics; at many open-door days visitors were enabled with small-scale WEGA to understand how Wendelstein 7-X would one day function.

WEGA was a member of IPP's Wendelstein family and could look back on an eventful past: As "Wendelstein Experiment in Grenoble for the Application of Radio Frequency Heating" the device was first commissioned in 1975 as part of the European Fusion Programme in a joint German-French-Belgian project in Grenoble. After a seventeen-year interim domicile at Stuttgart University's Institute of Plasma Research it was continued at IPP's Greifswald branch. "Counting its years of operation at Grenoble and Stuttgart, WEGA could look back on almost 40 years of experimentation", recalls Matthias Otte with a touch of melancholy. "This certainly makes it one of, if not the longest-lasting fusion experiment on magnetic confinement".