New Administrative Director at IPP
Dr. Josef Schweinzer to succeed Ass. jur. Christina Wenninger-Mrozek
On 1st July 2014 Dr. Josef Schweinzer will take up his position as Administrative Director of the Max Planck Institute for Plasma Physics (IPP) in Garching and Greifswald. He succeeds Ass. jur. Christina Wenninger-Mrozek, who has carried out the role since 2009. From 1st July she will be moving to the European fusion research programme EUROfusion as Head of Administration. The aim of the research work is to develop a power station which – like the sun – will produce energy from the fusion of atomic nuclei.



Dr. habil. Josef Schweinzer was born in 1962 in Vienna/Austria and, after having studied physics and obtained a doctorate at the Vienna University of Technology, joined the IPP as an experimental physicist carrying out research at the ASDEX Upgrade fusion device in Garching. In 1999 he was seconded to the European joint experiment JET (Joint European Torus) in Culham/Great Britain. Researchers from all over Europe carry out experiments on this fusion device, which is currently the largest in the world. In 2002, after having qualified as professor in the field of experimental physics at the Vienna University of Technology, Josef Schweinzer returned to the IPP in Garching. Here he led the JET Participation Project. In addition to scientific work undertaken at JET and the ASDEX Upgrade – where he developed plasma scenarios for the international test reactor ITER – he also carried out management tasks: he coordinated the IPP research campaigns at JET; he was also responsible for the investment planning for the ASDEX Upgrade and organised the research projects of European partners at the device in Garching. When he starts his role as Administrative Director at the IPP, he will be placing his scientific work on the back burner, but will not be giving it up entirely.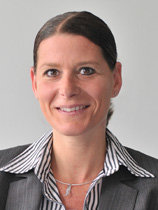 His predecessor, lawyer Christina Wenninger-Mrozek, was born in 1972 in Munich and joined the Administration of the IPP in Garching in 2000. In 2006 she took over the position of Head of Administration in the Close Support Unit of the European agency EFDA in Culham/Great Britain. Three years later Christina Wenninger-Mrozek returned to the IPP in the role of Administrative Director. Here she played an important role in the reorganisation of the European fusion research programme, which changed its structure with the start of the new European framework programme for research and innovation "Horizon 2020" (2014-2018). Whilst bilateral contracts between the European Commission and the national fusion laboratories had previously been the backbone of the European Fusion Programme, since 2014 it has been organised as a consortium of national laboratories: EUROfusion. From 1st July Christina Wenninger-Mrozek will be the Head of Administration of the new Programme Management Unit of the EUROfusion consortium based in Garching.
Isabella Milch