Wendelstein 7-X – supervisory audit 2014 successfully passed
Installation and commissioning certified for quality management in accordance with DIN-ISO standard / annual audit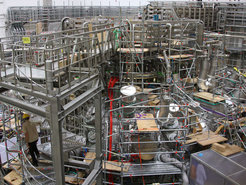 The Wendelstein 7-X fusion experiment, now being prepared for operation at Max Planck Institute for Plasma Physics (IPP) in Greifswald, is one of the first research devices in Germany to be built in accordance with industrial standards. The system of quality management governing the construction and commissioning of Wendelstein 7-X has been certified since 2010 in accordance with DIN-ISO standard 9001. The TÜV-Nord supervisory board checks in annual audits whether standard specifications are being complied with.

Also this year's audit has been successfully passed: In the concluding discussion the auditor confirmed functioning quality management for the final installation steps and the current commissioning of the Wendelstein 7-X device, which, additionally, was being continually further developed in keeping with current requirements.

Quality management, i.e. formalised organisation of work processes, is taken for granted in industry, but is rather seldom in a research institute. For construction of the Wendelstein 7-X fusion device, however, it was decided at an early stage to pursue strict quality management and devise an industry-like approach. This ensues that all work processes conform to a pre-formulated pattern in a uniform, correct and generally comprehensive manner. The system has been in force since 1999 and has since been continually adapted to the changing DIN-ISO standards.

The commissioning started in 2014 on preparation of the device for scientific operation was also incorporated in the system of quality management: All technical systems are at present being tested step by step, viz. the vacuum, the cooling system, the superconducting coils and the magnetic field produced by them. The audit now issued confirms that the quality-ensuring regulatory process not only conforms to the requirements of the current DIN-ISO standard 9001, but is also embodied at IPP and is being used by all participants for their own work.
im