Bavarian Order of Merit awarded to IPP's Scientific Director
Professor Sibylle Günter honoured for her commitment to European fusion research
Professor Dr. Sibylle Günter, Scientific Director of Max Planck Institute for Plasma Physics (IPP) at Garching and Greifswald, has been awarded the Bavarian Order of Merit. At a celebration in Munich on 12 July, this distinction, which is awarded in recognition of outstanding services to the Free State of Bavaria, was presented by Bavarian Prime Minister Horst Seehofer.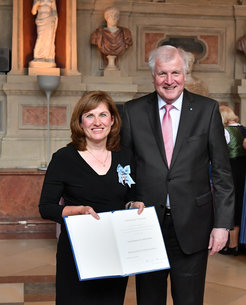 Sibylle Günter, "one of the leading scientists in the field of theoretical plasma physics", states the laudation, "plays a decisive role in coordinating European cooperation in the field of nuclear fusion research." Under her auspices the EUROfusion consortium was established in 2014, which was joined by 29 national fusion centres from 26 countries in the European Union and Switzerland. It was Sibylle Günter's efforts that resulted in Max Planck Institute for Plasma Physics in Garching being made coordinator of the consortium. Moreover, "her extraordinary achievements in the field of fusion research and commitment to promoting young scientists have been of extraordinary benefit to Bavaria as economic and science site and to its citizens."

Max Planck Institute for Plasma Physics, which Sibylle Günter has headed since 2011, is concerned with investigating the physical principles for a fusion power plant, which like the sun is to derive energy from fusion of light atomic nuclei. This is being done with the large fusion devices ASDEX Upgrade at Garching and Wendelstein 7-X at Greifswald, both of which play leading roles in the framework of the EUROfusion consortium.