Federal Research Minister Karliczek and Minister Hesse visit IPP Greifswald
Exchange of information on fusion research / visit to the Wendelstein 7-X research facility
The Federal Minister of Education and Research, Anja Karliczek, stopped off in Greifswald today as part of her country trip through Germany. Together with Birgit Hesse, Minister for Education, Science and Culture of Mecklenburg-Western Pomerania, she visited the Max Planck Institute for Plasma Physics.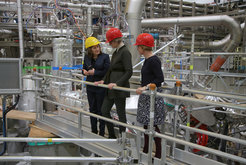 On her trip to the German states, Minister Karliczek meets her counterparts and takes the opportunity to visit outstanding scientific institutions and research institutes together with her counterparts. At the IPP, both ministers informed themselves about the status of fusion research and in particular about the work on the Wendelstein 7-X facility. "With Wendelstein 7-X, we in Germany are at the forefront of international fusion research", emphasised Federal Research Minister Anja Karliczek: "This is important because fusion energy can play an important role in our energy supply as an energy source in the future. The researchers at Wendelstein 7-X are helping to make a climate-friendly energy supply possible in the future. The successes already achieved show: We are on the right track. I wish the team every success in their future work".

"Wendelstein 7-X is one of the best examples of top research in Mecklenburg-Western Pomerania and the world's leading experiment in this field", said Science Minister Birgit Hesse. "Scientists here are researching a topic of the future. Achieving inexhaustible energy is mankind's dream. How we can generate as much energy as possible while conserving our planet's resources as much as possible is one of the most important questions research is concerned with. The generation of energy is becoming even more important in the digital age. Digitisation is not possible without energy. No smartphone or tablet runs when the battery is empty".

Like the sun, a fusion power plant is to obtain energy from the fusion of atomic nuclei. Fuel is a low-density ionized hydrogen gas, a plasma. Since the raw materials required for the fusion process are available in large quantities and the power plant promises favourable safety and environmental properties, fusion could make a sustainable contribution to the energy supply of the future. Wendelstein 7-X, the world's largest fusion device of the stellarator type, is to investigate the suitability of this configuration for use in a power plant.