Photo exhibition "30 years of ASDEX Upgrade" at Garching underground station
Research facility in the view of science and art / April to June / VHS lecture on 30 April
30 years ago, on 21 March 1991, the first plasma – potential fuel for novel, climate-friendly power plants – glowed in the ASDEX Upgrade research facility at Max Planck Institute for Plasma Physics (IPP) in Garching. To mark this anniversary, IPP is presenting a photo exhibition from 2 April to 29 June 2021 at the Garching underground station.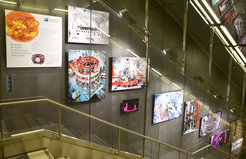 ASDEX Upgrade, the most powerful national fusion device of the tokamak type in Europe, is paving the way for a future fusion power plant. Similar to the sun, it will generate energy from the fusion of atomic nuclei. The exhibition shows ASDEX Upgrade in twelve large-format images as the object of professional photographers, scientists and former in-house photographers of IPP, as well as in the artist's view.
Together they tell a story of more than 30 years from the start of assembly to the machine today – photographed by Simon Ertl, Jan Hosan and Dr Volker Rohde, of the development of the device in conversions and extensions for diagnostics, data acquisition and plasma heating – photographed by Volker Steger and Bernhard Ludewig – and as an object of artistic interest – Constantin Mirbach.

An online event organised by the Volkshochschule in the north of the Munich district provides information about the progress made with ASDEX Upgrade: Illustrated by pictures from the exhibition, the two IPP scientists Arne Kallenbach and Hartmut Zohm chat about "30 years of fusion research with the ASDEX Upgrade tokamak". The free event (in German language) can be followed live on Friday, 30 April 2021, from 7:30 p.m. via Zoom stream at https://bit.ly/vhs-gespräch (registration required). A recording will be available afterwards on YouTube at https://bit.ly/vhs_videos.