IPP scientist wins Russian grant in the millions
Doing research in St. Petersburg with 3.5 million euros / Government grant from the Russian Federation
In an open competition Professor Dr. Friedrich Wagner, Director (retd.) at Max Planck Institute for Plasma Physics in Garching and Greifswald, has won, together with Russian colleagues from St. Petersburg State Polytechnic University and Ioffe Institute of the Russian Academy of Sciences, the "Grant of the Government of the Russian Federation 2011". This research grant for bringing leading scientists to Russian universities is being awarded this year for the second time.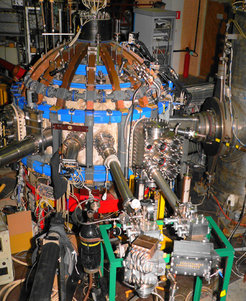 The research programme for Professor Wagner and his Russian university colleagues is being funded from 2011 to 2013 with 150 million roubles, i.e. about 3.5 million euros. Friedrich Wagner will be heading the Physics of Advanced Tokamaks research laboratory at St. Petersburg State Polytechnic University. The staff of about 80 are concerned with theoretical and experimental questions on plasma confinement in fusion devices of the tokamak type. With the three tokamak devices of Ioffe Institute, viz. Tuman-3M, FT-2 and Globus-M, they are investigating how to ignite the fire of the sun in a power plant here on earth.
From over 500 applications for the grant programme 39 teams – each comprising a scientific head and collaborating university groups – were selected, three of these being physics groups. A total of 5.56 billion roubles has been provided by the Russian government. The competition was open to scientists of all nationalities. The winning scientists must pursue the funded research with their Russian university team on site.