Venue
Krupp-Kolleg (Conference site)
Conference room in Main Building (Aula) of Ernst-Moritz-Arndt University (Welcome reception)
Max-Planck-Institute for Plasma Physics Greifswald (Excursion to Wendelstein 7-X)
Kaisersaal in Stadthalle Greifswald (Conference Dinner)
The closest and most important airports to Greifswald are Berlin-Tegel and Berlin-Schönefeld as well as Hamburg. Rostock-Laage is an option for national flights.
When you arrive in Germany you can hire a car to drive to Greifswald or you can use the train service of Deutsche Bahn. From Berlin to Greifswald you need app. 2.5 hours by train. Please disembark at the station "Greifswald" (the main station), not "Greifswald Süd".
Greifswald is situated in the northeastern part of the German federal state Mecklenburg-Vorpommern, close to a most beautiful water sports area between the two large islands Rügen and Usedom. The old university town and Hanseatic city offers visitors, Greifswald's inhabitants, students and scientists an inviting, creative atmosphere http://www.greifswald.de/en.html.

Krupp-Kolleg (Conference site)

The Alfried Krupp Wissenschaftskolleg gathers academics from all over Germany, Europe and the world for conferences, international symposia and summer schools http://www.wiko-greifswald.de/index.php?id=10&L=1. The Krupp-Kolleg is located in the medieval city centre of Greifswald, next to the 14th-century cathedral St. Nikolai.
Conference room in the main building (Aula) of Ernst-Moritz-Arndt University (Welcome reception)

The University of Greifswald was founded in 1456 and is one of the oldest academic institutions in Europe http://www.uni-greifswald.de/?L=1. Over 12,000 students from all over the world receive the most modern academic instruction and exciting research opportunities in a time-honoured environment.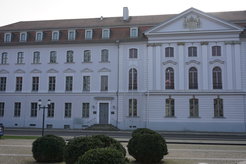 Max-Planck-Institute for Plasma Physics Greifswald (Excursion to Wendelstein 7-X)

The Branch Institute of IPP at Greifswald was founded in 1994. Here the fusion experiment Wendelstein 7-X is being constructed http://www.ipp.mpg.de/2285/en.

Kaisersaal in Stadthalle Greifswald (Conference Dinner)

The Stadthalle Greifswald is one of the central places for concerts and events http://www.theater-vorpommern.de/theater/theater-greifswald/.