Michael Griener wins PhD poster prize at EPS conference 2017 in Belfast
Michael Griener was awarded a poster prize at the 44th European Physical Society (EPS) conference
Michael Griener was awarded a poster prize at the 44th European Physical Society (EPS) conference in Belfast for his poster with the title "Implementation of fast line ratio spectroscopy on helium as plasma edge diagnostic at ASDEX Upgrade" [1].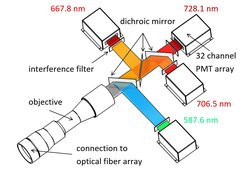 The scientific work the poster is based on is the development of a simultaneous measurement of electron density (ne) and temperature (Te) at the plasma edge at a high spacial and temporal resolution. For the measurements, helium is injected locally into the plasma via a piezo valve [2]. Light is emitted due to the excitation of the neutral helium by the plasma. The intensity ratios of the helium lines changes dependent on ne and Te. By the measurement of at least three lines, ne and Te can be reconstructed with the help of a collisional-radiative-model.
The new diagnostic includes the illustrated optical setup. This four-color measurement system separates the emitted light into four spectral regions to measure the helium line intensity by filter photomultipliers [3].
[2] Griener, M. et al., Rev. Sci. Instrum. 88 (2017)33509